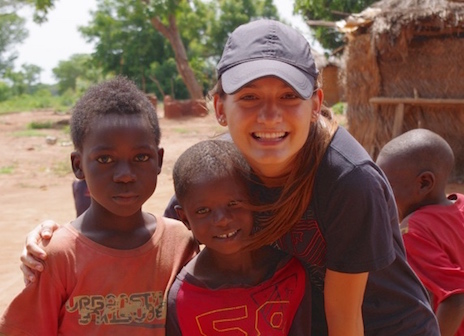 My name is Camille and I was a Saha Global Field Rep in June of 2014. I'm 19 years old, but I spent 13 of those years living and studying outside of the US, where I was born. After coming back to the States to study biomedical engineering at the University of Southern California, I was itching to get back into international work. I found Saha Global through the Engineers Without Borders club at my school and instantly agreed with their commitment to sustainability and women's empowerment. The Saha Global Leadership Program encompassed so many things that are so important to me such as health education, water crisis awareness, and cultural exploration.
Through attending this program, I learned about the culture and people of Ghana as a resident as opposed to simply as a tourist. I worked in the village of Sabonjida for three weeks while living in a compound in the town of Salaga with seven other field reps and our leader. Shopping for groceries in the local market and spending long days by the shore of Lake Volta gave me a true understanding of how my colleagues in the village live. I can already tell that the skills I acquired while working in the Saha Global Leadership Program will be invaluable to me in the future: tolerance, public speaking, stamina, and culinary creativity are just a few.
I remember being shocked at first by our drastic cultural differences, but soon overcoming them to bond deeply with the women that we worked with. My favorite memory from the trip was when we were collecting the water for our first round of treatment at the center. My Saha Global team and I struggled carrying small buckets of water while the village entrepreneurs, Mary, Florence, Elizabeth, and Mercy, carried large tubs of on their heads without breaking a sweat. Though we could not speak the same language, the eight of us had the best time as the field reps attempted to keep up with the women we were supposed to be training. Since returning home, it has been comforting to be able to keep updated on the successes of the entrepreneurs in Sabonjida. This experience further intensified my interest in international development work and I look forward to following, and hopefully being involved in, future Saha Global projects.
Want to learn more about Camille's experience or have any specific questions? Camille would love to tell you more! Feel free to email her at clconner@usc.edu Also take a look at what she's up to now!