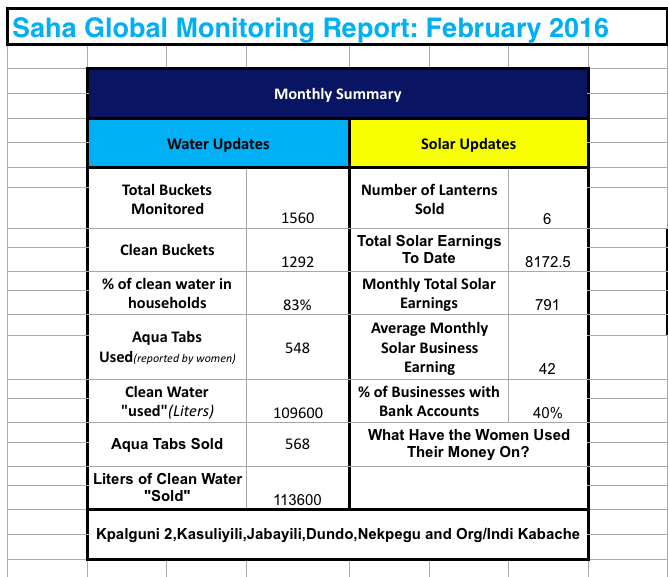 Villages Visited:
Week 1:
Laligu, kpalyn, yepalsi, kagbal, kurugu vuhuyayili, wambong, yakura, zanzugu, zanzugu yepala, changyili, jangbarigiyili, Balamposo, galizegu, warvi, namdu I, namdu II, gondaa, kasulyili, kpachiyili, kpaliga, jagberin, kpalguni, tindan, chandanyili, sagbragu, tijo, chihigu, naha, takpili, jarigu, Cheko, komlanyili, kpanshegu, Bamvim, kagburashe, kpenchila, Sakpalua, futa, kpalguni II, manguli, gbruma, wovugu, wovugumani, manguli II, kulaa, voughyili, djelo, Buhijaa, moya, kudula, kuldanali, bogu, tindan II, kpanayili, Dundo, gurumanchayili, Gbandu, Garizegu.
Week 2:
Kagburashe, gbung, Libi, jarayili, Kpalbusi, original and indigenous kabache, jangbarigiyili, changyili, jabayili, yakura, zanzugu yepala, zanzugu, Balamposo, galinzegu, wambong, kuruguvuhuyayili, kagbal, naha, Galinkpegu, chihigu, warvi, namdu I, namdu II, gondaa, tijo, tindan I, sagbragu, jagberin, Chandanyili, kpalguni I, kpalga, Kpachiyili, jarigu, Cheko, takpili, kpanshegu, komlanyili, yepala, Bamvim, futa, kpalguni II, Kpenchila, Sakpalua, kpanayili, kalinka, Nekpegu, Tohinayili, manguli II, Buhijaa, djelo, voghyili, kudula, kulaa, moya ,komonaayili, kuldanali.
Week 3:
Kushini, gbung, Libi, jarayili, yakura, zanzugu, zanzugu yapala, changyili, Balamposo, kagbal, jangbarigiyili, kuruguvuhuyayili, sagbragu, Cheko, Chandanyili, kpalguni I, jagberin, naha, chihigu, namdu II, warvi, cheshagu, gondaa , Galinkpegu, futa, jarigu, janakpen, gbruma, kpalguni II, manguli II, wovugu, wovugumani, komlanyili, yapala, kpanshegu, Bamvim, kuldanali, Buhijaa, djelo, voghyili, kudula, moya, kulaa, komonaayili, kpanayili, bogu, tindan.
Week 4:
Jarayili, chongashe, libi, gbung, kushini, kpalbusi, gidanturu, chanaayili, original and indigenous kabache, kideng, tunga, laligu, kpalyn, yepalsi, jangbarigiyili, zanzugu, zanzugu yapala, changyili, balamposo, tijo, tindan I, kpalguni I, chandanyili, jagberin, sagbragu, gondaa, namdu I, namdu II, warvi, kpalga, chihigu, galinkpegu, naha, cheshagu, futa, kpalguni II, wovugumani, wovugu, manguli II, janakpen, gbruma, takpili, chani, cheko, kpanshegu, komlanyili, yepala, bamvim, Kpenchila, kulaa, komonaayili, moya, kudula, voghyili, djelo, manguli I, kuldanali, bogu, tindan II, nekpegu, kalinka, tohinayili, gurumanchayili, gbandu.
The new water villages implemented during the Winter Global Leadership Program were shared among the staff to monitor. Wahab monitors Naha, Galinkpegu and Chihigu. Amin monitors Futa and Kpalguni. Eric monitors Komonaayili and Shak took over monitoring Kagbal.
Success Stories
February marks the second month in a row with over 80% usage in our water villages! Given that our average usage rate over the past 7 years has been closer to 70-75%, it's exciting to see this upward trend. The monitoring team and our field reps have done a great job focusing on water and health education, not just business logistics, which really helps with long-term behavior change. We are proud of this progress! The following villages had 6/6 household visits at a point in the month (meaning that all of the households that we stopped into see that day had clean water in their safe storage containers): kushini, kpalyn, warvi, galinkpegu, chihigu, naha, yepala ,futa,k.kpalguni, djelo, nekpegu, and komonaayili. And, since they always say a picture is worth a thousand words, here are some pictures from monitoring our water villages this month!
On the solar front, we've had a couple of great successes this month. The entrepreneurs in Kpenchila were able to open a savings account with Bonzali rural bank! We are so proud of these ladies! The lighting wasn't great, but we were able to capture a few photos from this day.
During February, the Sakpalua entrepreneurs bought 40 AA size rechargeable batteries to replace worn-out batteries. After months of talking about this with them, we were thrilled that the ladies committed to re-investing in their business. Also, the entrepreneurs from Namdu I, Namdu II and Voghyili told us that they plan to open savings accounts soon.
Challenges
It's that time of year when we start to see dugout drying out in some of our communities. In February, the dugouts in bamvim, manguli II, futa, chihigu, futa, zanzugu, zanzugu yepala, galinzegu, gbruma, voghyili, buhijaa, balomposo, kpaliga, chesagu, yakura, kpachiyili and jangbarigiyili all dried up and water sales have stalled until it rains and there is water treat. Bamvim and voghyili both had very high sales before their dugouts ran out. The women in Dundo have also temporarily paused water sales because people have started to go down the road to the University of Development Studies where they can get tap water for free. We are unsure if this water will continue to be available to for free in the long-term, so they entrepreneurs in Dundo are being patient and will start up sales again if the USD pipe is no longer an option. In Jabayili, the women are still experiencing problems related to their stolen blue drum. Although they still have two of their blue drums, the women complain it's now difficult to treat water. We are working with the village leadership to find a solution to this problem. In Kasulyili the project that pumps water from the dugout to the community is still running and many people still have the misconception that the water from this pump is treated (it's not). Our team is planning an education campaign to address this problem. Finally, sales at the water business in Nymaliga were slow one week because the chief passed away and everyone is busy arranging for the funeral. Other smaller problems included a leaky polytank in Moya that was easily fixed.
Villages with problems at their solar centres are wambong, yapalasi, chani and Nekpegu. In Wambong, the main battery at the solar center seems to have a problem. The women can manage the issue by having small repairs done, but eventually will need to replace it.  In Yepalsi, the inverter has broken down. However, as we mentioned a few months ago, this village now has electricity from the city and the solar center is just used during "lights out." So it has not been a huge problem. Finally, both Chani and Nekpegu complain of their lamp batteries not lasting long after charge. This is expected as both centers have been open for over two years. Like Sakpalua, the entrepreneurs will have to replace the AA batteries soon.