Hi from Team Simply in Ghana! We have the privilege of implementing a clean water business in the village of Bamvim. Yesterday, we met with our community members and picked a spot near the dugout to put the Polytank stand, where the clean water center will be established. Together with the community, we painted the stand so that it would not rust. Unfortunately, our paint leaked all over the bag with all of our tools inside, so everything was covered in blue paint. We only had two paint brushes, so we had to think on our feet a little bit and ended up painting with our hands. It was definitely a messy but fun morning, and an awesome experience to share with the community members. One of the village elders loved the end result so much that he wanted us to come back and paint the door to his home.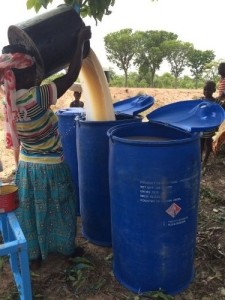 In order to clear the area for the stand, some of the men worked to cut away some of the surrounding brush. Obviously, we were very thankful for their help.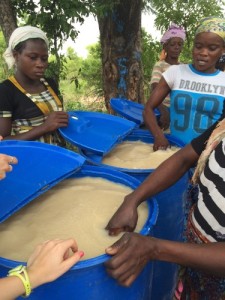 Today was Day 1 of training the women who will run the water business. We went over how to use alum (the coagulant that makes particles in the water sink to the bottom so that the water becomes clear), but they already knew how, so it was a pretty straightforward process. We also went over how to assemble the safe storage containers that will hold the clean water for each household. The women are very smart and eager to learn, so they learned quickly. Outside of the three women who will run the business, many community members came to watch the process, including children and elders. Everyone is so excited, which is awesome 🙂 The day was long, but it didn't feel like work at all. We had so much fun bonding and collaborating with the women and with the community members. Everyone applauded after each woman successfully assembled a safe storage container; there was a lot of encouragement and empowerment between the women. Today generated a lot of excitement as the idea of the clean water business comes to life. We purchased the rest of our materials today, and will put the center together tomorrow. The community of Bamvim, along with ourselves, plan to open the business on Monday, June 22nd! Days like these highlight Saha Global's ideals of community engagement, women empowerment, and sustainable business opportunities, and we are so excited to be a part of it all.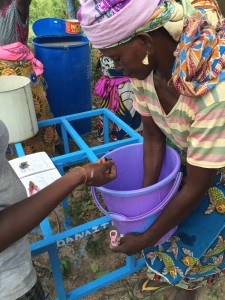 – Elizabeth, Simply, Maggie, Danaite and Havana