Just two days ago we were thrown a curveball when our women entrepreneurs, Abiba and Amina, requested that we move our opening day from Monday to Sunday. Team Wahab collectively decided that we were up to the challenge! After two long, hot days of distributing Safe Storage Containers to all 54 families in our community, and working with our women entrepreneurs to fill a whole polytank with clean water, we were ready for opening day.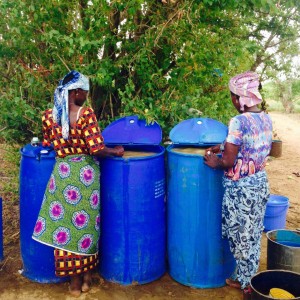 While Wahab, our translator, made a last minute fix on one of the three blue drums, Kelly and Kelsey pumped up the mood with an impromptu dance party. Since the discovery that jump-rope in Dagbani, the local language, is "Tsamina mina", "Waka Waka (This Time For Africa)" by Shakira has become our team jam. The kids in our community are also very familiar with the song and often sing along with us. It's amazing that Shakira has been able to transcend language barriers and help us build relationships with the kids in our community  All the while, women were starting to arrive with their Safe Storage Containers, excited to provide their families with their first supply of clean water.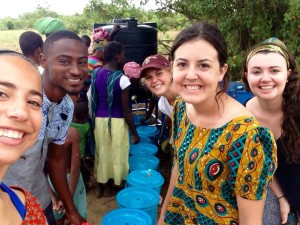 Amina and Abiba were treated as celebrities upon arrival; and so the wild rumpus began!    In efforts to stay organized amidst this wild crowd, Jessie marked off containers on the household list, Bria labeled containers— since our Sharpie from yesterday turned out to be a dry-erase marker—Kelly and Kelsey rationed soap, and Wahab checked for leaky buckets. Our super-star women entrepreneurs collected money and put smiles on the faces of all their friends with their newly treated, safe drinking-water! Over 40 households sent a representative to fetch polytank water!
Our only bump in the road was when we ran out of water in the polytank. Unfortunately, last night's alum treatment was a little too conservative— if you use too much alum, it can affect the taste of the water—  so a quick refill was not in the cards. Amina and Abiba optimistically retreated the dugout water in the blue drums, announcing to the few remaining customers that they would re-open for business in the evening. As it turns out, because most of the community is fasting for Ramadan, they can't actually drink water until sundown. Everyone will have delicious drinking-water in no time!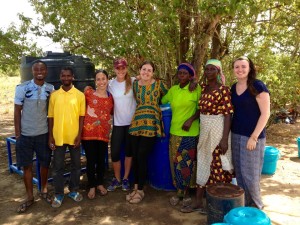 When asked about their plans for business hours later in the week, Amina and Abiba did not have to discuss their schedules. Instead, they excitedly announced that they hope to open for business everyday!
– Kelsey, Bria, Wahab, Kelly & Jessie