We're back! Since the first Saha business opened in 2008, we've never taken a full year away from implementing new water businesses. When the pandemic hit Ghana, we took a pause in our field operations, and then pivoted nearly the whole team to implementing the Emergency Water Fund (EWF) so we could support the Government of Ghana's initiative to bring free water to all.
The free water mandate ended on March 31 2021, and we were ready to be "back in business" opening new businesses!  Throughout the EWF program, our expansion team continued to work behind the scenes to scout new potential communities to work in.  Over this time, our scouters visited more than 1,400 communities across northern Ghana, mapping their water access.  The admin and procurement team secured all the supplies and parts our new businesses need, and planned out logistics like team transportation and housing. Thanks to all of this preparation, as soon as we could start visiting new communities, we did!
We're doing things a little bit differently now, with a smaller team.  In order to keep our communities and our staff safe as the threat of COVID remains, we've developed new protocols for community meetings and household visits.  We make sure to have two team members present for a community meeting so they can do some "crowd control" and make sure the meeting doesn't exceed the government limit for gatherings, and distribute masks to everyone who attends.  We've actually found gathering people for community meetings is a little bit easier now – people like getting a free mask!
We give the elected entrepreneurs reusable cloth masks to wear while training with our team and to continue using while they serve water to their community after the business has opened.  When we visit households to distribute safe storage containers and tell customers about the new business, we make sure not to enter people's room and keep the conversations outside in the open-air courtyards.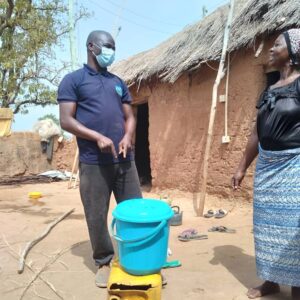 Like any big process change, we needed to test these out first.  Our two implementation team supervisors, Nestor Danaa and Amin Bangaham Mohammed, implemented the first two communities of 2021 in Savelugu District.  Thanks to their testing and feedback, we refined our safety plans and were able to train the rest of the team.  Now, we've already opened 10 new businesses, on track to hit our goal of 50 for 2021.
It's energizing to be back in the field meeting new people and bringing water access to new places.  One leader in a new Saha community near Salaga told our team, "We've been waiting for you!"