Our Founding Story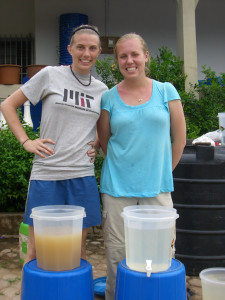 Saha Global co-founder and Executive Director, Kate Cincotta graduated from the University of Virginia with a degree in Aerospace Engineering and secured her "perfect" job — a great salary, benefits and her own office, but from day one she knew something was missing. She longed for the fieldwork that had been her passion as an undergraduate leader of clean water projects in Nicaragua and Cameroon.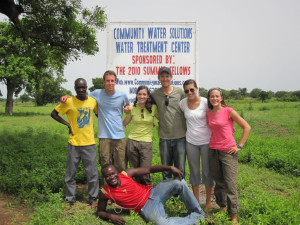 Eager to return to the world of public health, Kate went back to school in 2007 for a Masters in Technology and Policy at the Massachusetts Institute of Technology. She wanted to focus her studies on water issues in developing countries, and soon found thesis advisor Susan Murcott who was leading a graduate research program on household water treatment in Northern Ghana. Kate focused her efforts on studying the sustainability of household water treatment and safe storage technologies. Over an intense January of research, she met Vanessa Green, a fellow MIT graduate, studying consumer preference in the area of household water products.
As engineers, Vanessa and Kate both understood that the water needs in Ghana were not due to a lack of technical solutions – a number of water treatment products were available with the potential to meet the needs of Ghanaian communities. The challenge lay in the implementation of those solutions in the field. Intrigued by the idea of finding a durable implementation model, Vanessa and Kate worked together through the subsequent term to develop the community-scale, low-tech, social enterprise approach that formed the foundation of Saha Global's model. They raised funds to pilot the idea from the Public Service Center at MIT and headed back again to Ghana in June 2008.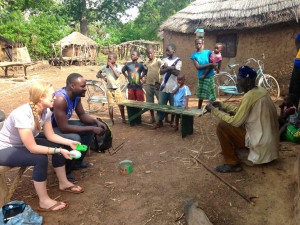 After a successful initial implementation, they brought Chuck Howe and Mike Brown onto the founding team and created Saha Global (then called Community Water Solutions). Kate decided to commit herself to building the organization, and a year and several successful implementations later the founding team knew they had a viable effective business model. With that in place, they saw an opportunity to share the Saha Global experience with fellow students and young professionals while increasing impact on the ground and the Global Leadership Program was born!
After years of working closely with the water entrepreneurs in remote Ghanaian villages, the Saha Team was incredibly impressed by the women's business acumen and desire to help their communities. Excited to do more with these women, and overwhelmed with options, Saha turned to our network of past Field Reps for ideas. We knew that these intelligent, innovative leaders would have great ideas for the expansion of our organization, and they did not let us down! In 2012, Ben Powell (2010 Summer Field Rep) and Mark Moeremans (2012 Summer Field Rep) pitched us their idea for Saha solar businesses, which they piloted in Ghana the next Fall. Thanks to the generous support of Boston-based company, Next Step Living's, philanthropic program, Next Step Giving, we were able to pilot solar businesses in four more of our water communities and the rest is history!
The word "Saha" means opportunity in Dagboni, which is the local language spoken in Northern Region Ghana. While we plan to expand outside of this region in the near future, we thought it would be fun to have a piece the area stay with our organization as we grow!
Want to hear more about the early days of Saha Global? Check out Kate's TEDx Talk.